Top 5 Free Activities for Homeschoolers (2023) Ideas, Things
One common concern among homeschooling parents is the cost of homeschooling their kids. However, there are plenty of free activities out there that can provide learning and entertainment for your child.
These days, thanks to the internet, there are many activities, things to do, and ideas available for homeschoolers.
And, luckily for you, I've taken the trouble to compile a list of Free Activities for Homeschoolers in this article.
Top 5 Free Activities for Homeschoolers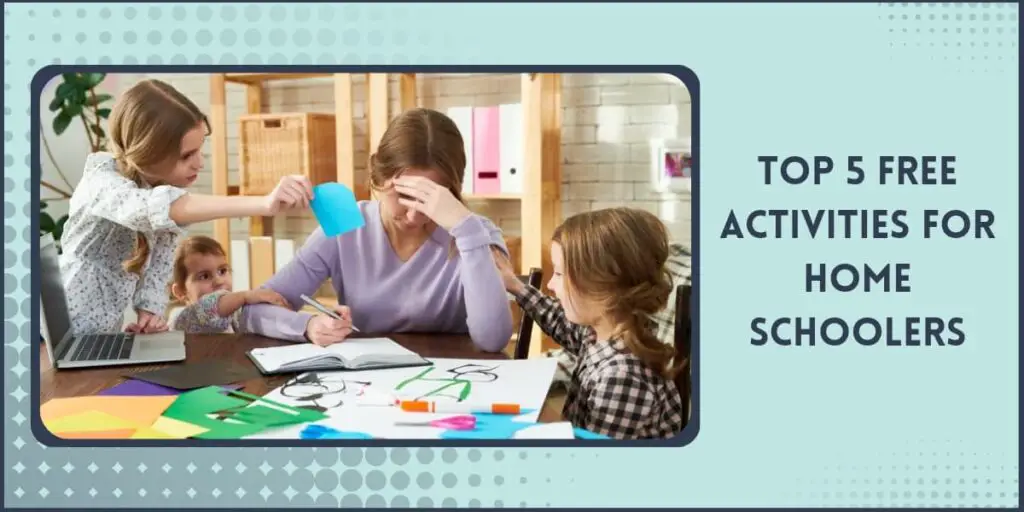 The best activities for homeschoolers are those that spark curiosity, foster creativity, and instill new, relevant knowledge in them.
These are the Top 5 Free Activities for Homeschoolers:
1. PhysicsQuest
PhysicsQuest is a free educational program for 6th to 9th graders run by the American Physical Association (APS). The program comprises an activity kit for 4 fun experiments, which aims to introduce students to basic physics concepts and sustain their interest in math and science.
Each year, the experiments are based on a physics concept that contributed to a breakthrough in science and technology. Although past PhysicsQuest kits are no longer available, you can download the written materials and share them with your kids today.
2. Starters for STEM
Starters for STEM is a project run by STEM Learning, which includes worksheets for many fun and easy activities for children between ages 4 and 11. These activities are designed for parents to develop their children's science, technology, engineering, and math skills. From making a telescope to building endless constructions with LEGO, Starters for STEM's activities are guaranteed to unveil the genius in every participant.
3. The Buddy Bison Program
Even if your child is homeschooled, they don't have to do all their learning in isolation. Interactive group activities are also beneficial for learning, and National Park Trust's Buddy Bison Program is one such activity.
The Buddy Bison Program is devoted to helping over 20,000 kids connect with nature and parks around the U.S. every year. With its fully funded park experiences, your child can learn more about the environment and ways to preserve it.
4. Stuck at Home Science
If you wish to engage your kid's creativity and have fun with them without leaving your home, the Stuck at Home Science series has got you covered. Designed by the California Science Center, the Stuck at Home Science series comprises exciting science activities for kids—all of which can be done with easy-to-find household supplies.
To get started, simply tune in to the California Science Center's website at 10 a.m. (PST) every weekday to watch a video lesson live. You could also explore past Stuck at Home Science topics, videos, and activities.
5. Free Virtual Field Trips
You may be surprised that even though your child is homeschooled, you still may not have the time to take them on physical field trips. Fortunately, various organizations offer virtual field trips online, which you and your kids can explore for free. With venues ranging from ski resorts to dairy farms to even the International Space Station (thanks to NASA), the options are endless!
These were the best Free Activities for Homeschoolers that are invaluable and necessary for your kids.
If you want a free laptop for your child, check out this article on Free Computers for Homeschoolers.
Top 5 Free Things for Homeschoolers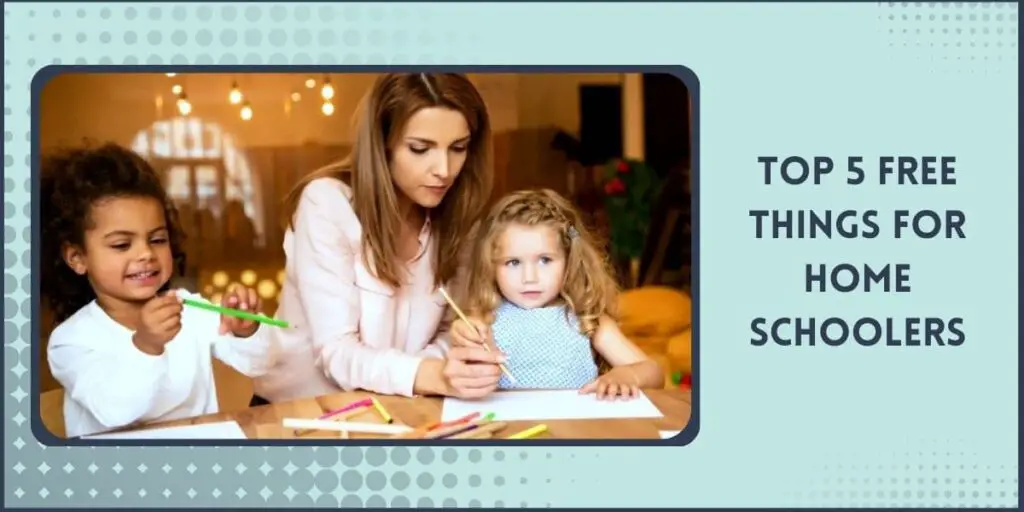 The above activities aren't the only freebies homeschoolers can enjoy. This section will share other free, essential resources for homeschoolers.
1. Online Homeschool Curriculum
Not every parent fancies exclusively online education for their kids. But if you don't mind setting up your child for such, you should leverage the many free online homeschooling curricula available today. A good place to start is Khan Academy, which offers free access to thousands of lessons and activities on various topics.
2. Libraries
For homeschoolers, a well-stocked library can be a great resource for borrowing books and educational DVDs, including documentaries and instructional videos on various topics. Even if you can't visit your local library, there are many online libraries where you can access ebooks, videos, and audiobooks for free.
3. Free Educational Podcasts
In today's digital age, where kids are usually glued to TV and mobile phone screens, screen-free learning resources such as educational podcasts are a godsend. Most educational podcasts for kids are free, varying from 10 to 30 minutes.
They also cover various genres and topics, from short stories to improve your children's vocabulary and listening skills to science-driven content that encourages inventiveness. So browse the internet for the options available today.
4. Educational YouTube Videos
Many parents are reluctant to let their kids use YouTube due to certain inappropriate content on the platform. However, with parental oversight, YouTube can become an essential resource like the others on this list.
There are many educational videos on YouTube to know unique Free Activities for Homeschoolers. They include music, science, foreign language, literature, and other topics. Examples of educational YouTube channels include TED-Ed, Minute Physics, and Numberphile.
5. Free Science Materials
Several non-profit organizations, like SEED (Science and Engineering Education Directive), provide free science kits to children. Most of these science kits comprise learning modules incorporating STEM lessons, which your child can greatly benefit from.
Top 5 Free Homeschool Ideas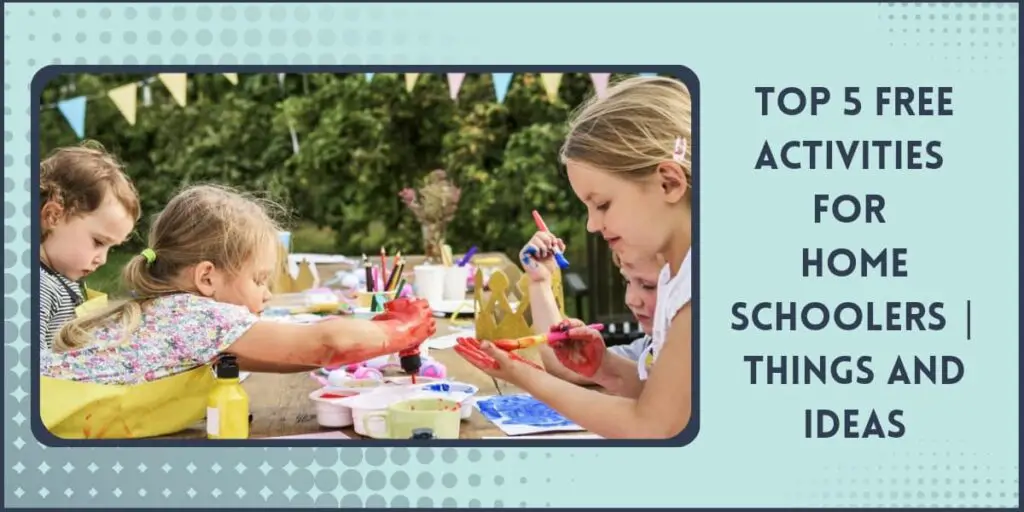 All work and no play can lead to boredom. And when your kids are bored, it takes an engaging activity like the free homeschool ideas in this section to engage them again. That is why I have created this article on Free Activities for Homeschoolers. And while we are on that, ideas are very important for your child to learn and grow.
These are the top 5 Free Homeschool Ideas:
1. Educational Scrapbooks
During summer, encourage your kids to fill their scrapbooks with print-outs related to the topics they're learning about. The print-outs could be images from Google, newspaper clippings, postcards, or hand-drawn diagrams. That way, your kids' scrapbooks will be a wealth of information by the end of summer.
2. Colorful Huichol Painting
Huichol paintings are popular artworks in Mexico, known for their rich colors and intricate patterns. They are made by spreading beeswax on wood and leaving it in the sun to dry. Afterward, the artist carves fine line patterns into the dried beeswax with a stick, then fills them with yarn of various colors. Huichol paintings are a fun leisure activity, and you can check samples online for inspiration.
3. Science Experiments for Kids
You can incorporate some science experiments and projects into your child's homeschooling. Whether your kids are experimenting with water or chemicals or just nurturing and observing an ant habitat, they will have so much fun learning.
4. Geocaching
Geocaching is the perfect combination of technology, learning, and outdoor exploration. It's also a fun and simple activity to engage your kids in. Basically, your kids use a GPS-enabled device, like their smartphones, to navigate a set of coordinates and hunt a geocache (or a treasure). Visit Geocaching to get started today.
5. Journaling
Journaling is an excellent way for your children to reflect on their thoughts, feelings, and experiences; it also helps them learn more about themselves. To get started, you could teach your kids the freewriting technique. Or you could use journaling prompts for inspiration.
Conclusion
With the list of Free Activities for Homeschoolers in this article, you can save money on your child's education and significantly improve their learning experience. So review each resource, learn more about them online, and exploit the ones most appealing to you.