Free Landline Phone Service for Low Income | How to Guide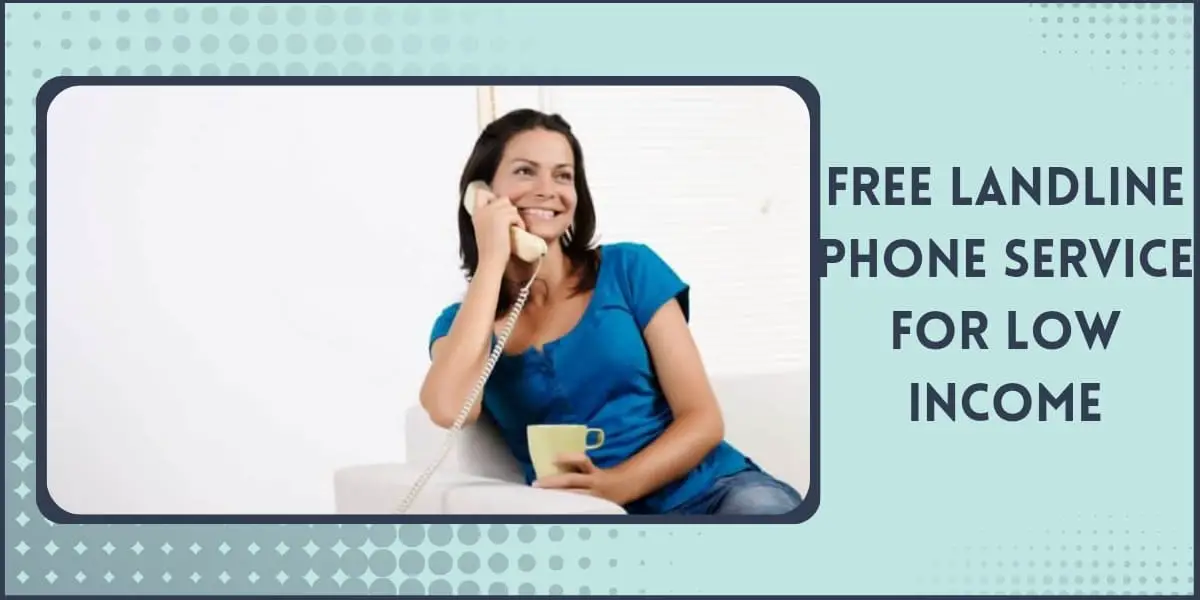 The Federal Communication Commission (FCC) started the free landline phone service to make sure that every American can access affordable communication. This assistance was provided for the low income earners of the state.
This article contains all you need to know about free Landline Phone Service for Low Income people, how to apply, eligibility criteria, and required documents.
How to get Free Landline Phone Service for Low Income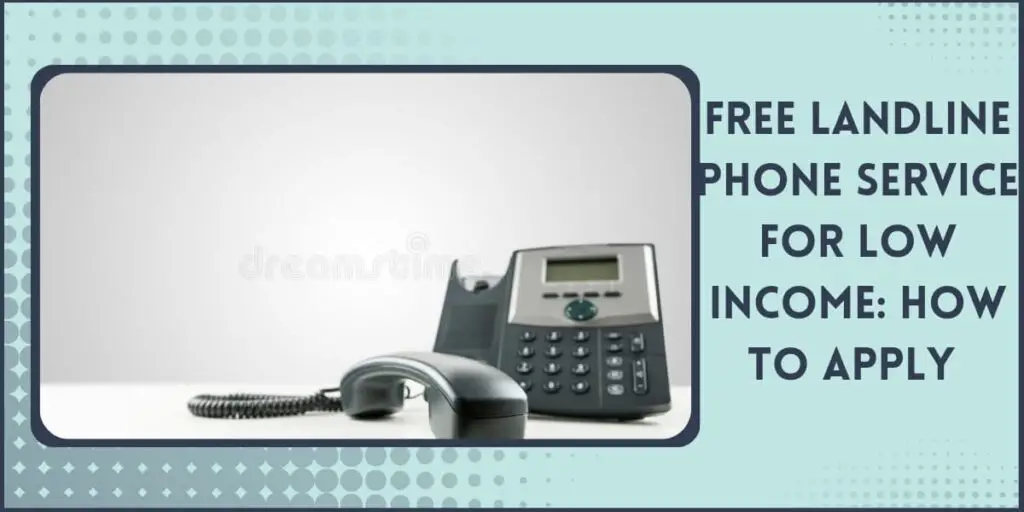 To get a free landline phone service for low income Earners, follow the steps below
Qualify for Lifeline: You qualify for the lifeline assistance program if you meet the income requirement of 135% of the federal poverty guideline or participate in a government assistance program. You can visit https://nv.fcc.gov/lifeline  to verify if you are eligible.
Apply Online or by Mail: You can apply for the lifeline program online via the lifeline official website or send your application in the mail to USAC Lifeline Support Center, PO Box 7081, London, KY 40742.
Choose a Provider: On the Lifeline website, you will be asked to choose a service provider. Ensure you choose one available in your area that offers lifeline assistance. The lifeline website offers a tool that allows you to search for phone providers that offer lifeline services. You can simply input your zip code to see a list of such providers. Some phone service popular providers that work with Lifeline are StandUp Wireless, Verizon, Comcast, AT&T, Infiniti, Boost Mobile, Metro by T-Mobile, and many more!
Wait for Installation: After choosing a phone service provider, contact them to enroll and schedule a landline. You will have to fill out an application form providing your details alongside documents like your lifeline acceptance form, ID, and income proof. After enrolling, you can schedule an installation. Be at home at the time and day set for the installation and wait for them.
Check out the Best Free Lifeline Phone, so you can compare and choose from the best the company has to offer.
Eligibility for Free Landline Phone Service for Low Income Earners
Below are the eligibility criteria to get a Free landline Phone Service for Low Income Earners: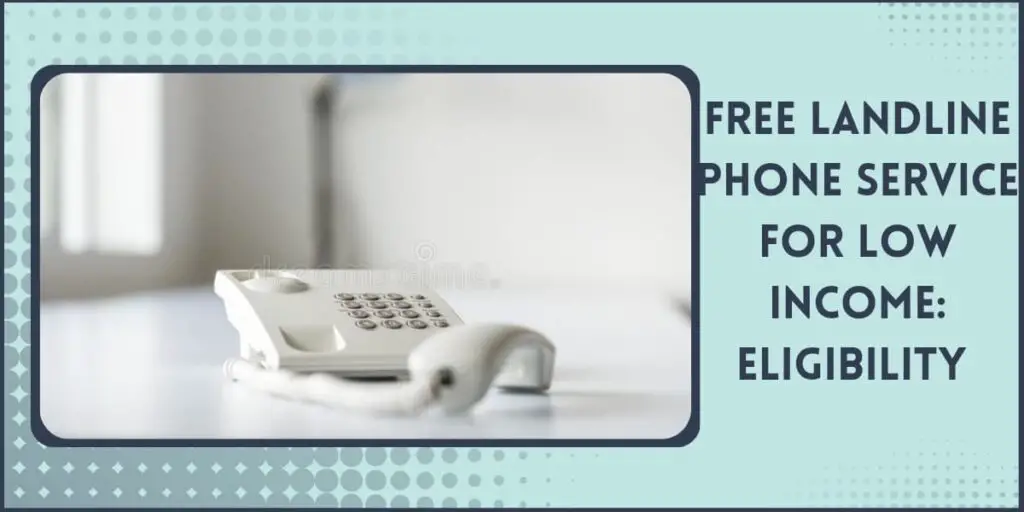 Income Requirements
| Household Size | Income requirement |
| --- | --- |
| 1 | $18,347 |
| 2 | $24,719 |
| 3 | $31,091 |
| 4 | $37,463 |
| 5 | $43,835 |
| 6 | $50,207 |
| 7 | $56,579 |
| 8 | $62,951 |
| For each additional individual, and the addition of  | $6,372 |
Other Qualifications
Other requirements to be eligible for Free landline Phone Service for Low Income Earners are:
You must be 18 years of age and above.
You must be a participant in any government assistance programs like SNAP, SSI,medicaid, federal public housing assistance, or veterans pension survivors' benefit.
If you are a person with any disability, you can also get a home phone for free. Check out Free Landline Phone Service for Disabled to know more.
Documents Required to Get a Free Home Phone for Low Income
The documents required to get Free Home Phone for Low Income Earners are:
U.S driver's license
Passport
Permanent resident card
Individual Taxpayer Identification Number(ITIN) document
Government, state, military, or Tribal ID
Birth certificate 
Certificate of U.S citizenship 
Social security statement of benefits
Veteran administration document, Pension statement of benefits
Federal/tribal or state tax return copy
Your previous year's federal, state, or Tribal tax return
A copy of your recent income statement
Your paycheck stub
Unemployment or worker's or Pension or retirement statement of benefits
Tribal Head Start verification letter
Food Distribution Programs on Indian Reservations approval letter.
Check out the best Free Government Landline Phone Service in 2023.
How to apply for Free Landline Phone Service for Low Income Earners
Here's how to apply for free landline Phone Service if you are someone who is a low income individual:
1. Through Your Phone Service Provider 
Call the Landline phone service provider available in your locality.
Fill in the application form sent to you.
Submit the filled-out form alongside the required documents that are mentioned above such as your proof of income, or membership in other programs.
2. Through Lifeline Program
Visit https://nv.fcc.gov/lifeline
Choose your state territory and click on get started.
Follow the prompts.
Choose a service provider available in your location.
You will be directed to fill out an enrollment form from your service provider.
Enter your correct details and attach the required documents and set a date for installment.
Submit and wait.
How Free Landline Phone Service Works
The Lifeline program works with different phone providers to take care of landline your bills, making it one less thing to worry about each month. Once approved by Lifeline and your phone provider, you will not receive monthly bills.
Instead, Lifeline pays the phone company directly. You may, however, continue to receive invoices or bank statements for your records.
The exception to this rule is when signing up for a package that costs more than the service. Let's say your Lifeline balance is $9.25/month and your package is $14.25. In this case, Lifeline will cover some of it, but you'll still be responsible for the $5.25 monthly difference.
Benefits of Free Landline Phone Service for Low Income
These are the benefits of Free Landline Phone Service for Low Income:
Up to 1,000 free minutes of talk time.
$5.25 credit toward voice support.
You have one bill less to worry about at the end of the month.
$9.25 credit towards a broadband subscription.
Challenges and Limitations of Free Landline Phone Service for Low Income
There are a few challenges and limitations one can come across when trying to get Free Landline Phone Service for Low-income earners
It only covers as much as your lifeline credit.
You have to qualify for Lifeline to get Free Landline Phone Service for Low Income Earners.
You have to renew this program annually.
Some service providers may request enrollment fees.
Conclusion
You can get your Free Landline Phone Service for Low income Earners through the Lifeline program. Lifeline offers a monthly cash benefit paid directly to your phone company to cover your bills when you qualify. To qualify for Lifeline, you must have an income rate that is at or below the 135% U.S. poverty standard or be a participant in another government program, like SNAP or Medicaid. You can apply for Lifeline online via their official website or through your phone company.