Free Used Computers: Top 5 Places & How to Get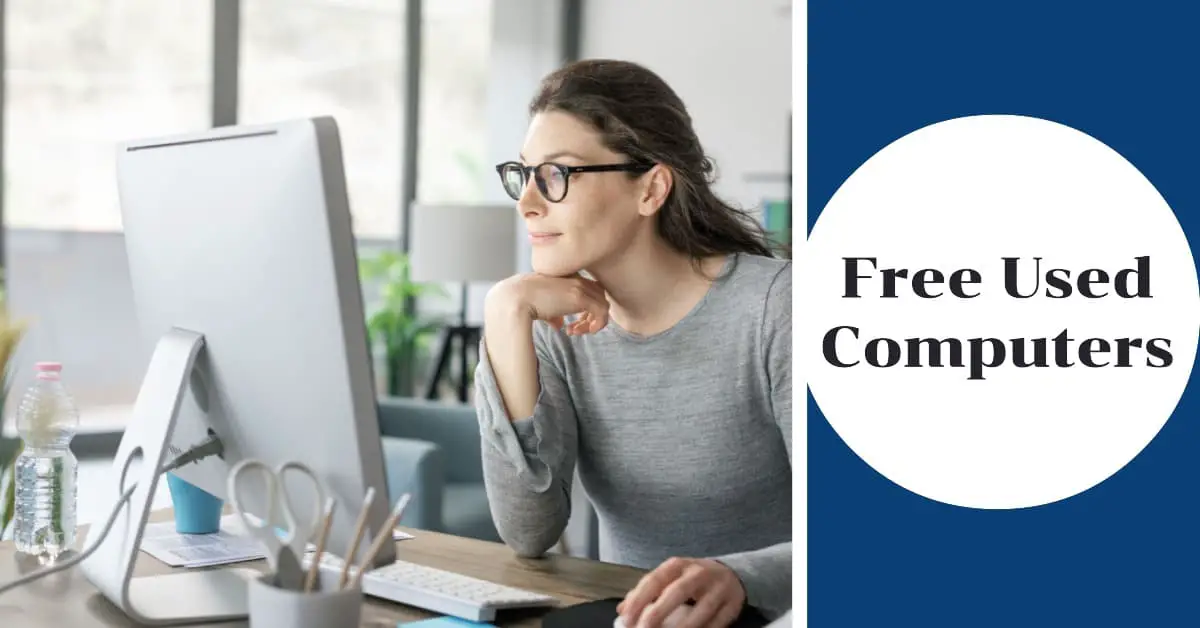 There I was, scrolling through my social media feed, when I stumbled upon something that seemed too good to be true: free used computers!
As a tech enthusiast always on the lookout for a bargain, I knew I had to share my findings.
This post explains how and where you can get Free Used Computers.
What are Free Used Computers?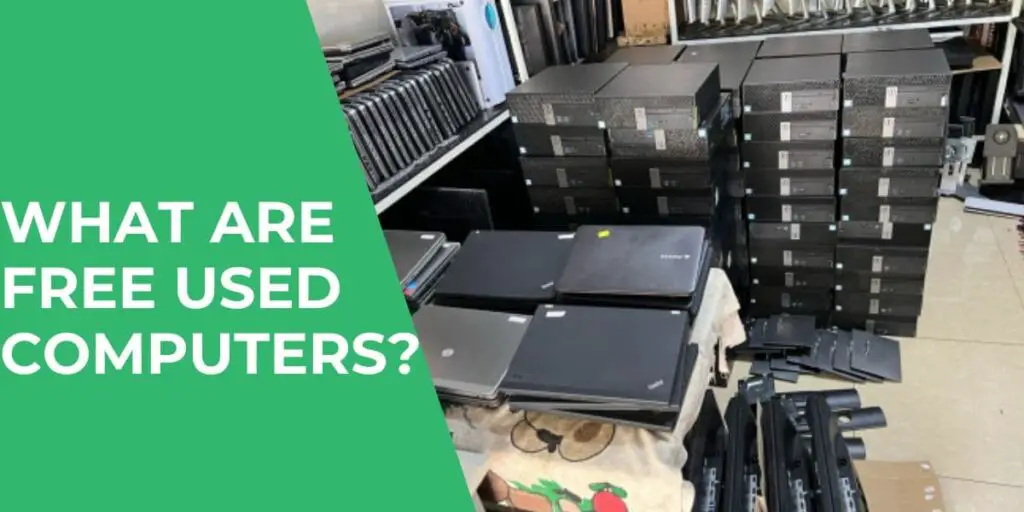 Free used computers refer to pre-owned computer systems offered at no cost. They present an affordable and accessible option for individuals who are seeking computer equipment without the need to purchase brand-new devices.
If you're a nonprofit organization needing free computers, check out my post on Free Computers for Nonprofits.
Top 5 Places That Offer Free Used Computers
These are the top 5 places to get free used computers:
1. Interconnection
Interconnection is a program that provides free computers to individuals in need. They have partnerships with various states, offering assistance in acquiring free computers. Check their website for availability and support in your state.
2. Freecycle.org
Freecycle.org is an online platform where people give away unwanted items for free, including used computers. You can browse local listings and connect with individuals willing to donate their used computers.
You can also get one through the Affordable Connectivity Program. Check out this post on ACP Free Laptop to know more.
3. PCs for People
PCs for People is a nonprofit organization that refurbishes and distributes computers. They offer computers to people that are eligible for a free used computer. Visit their website to learn more about their program and apply for a free computer.
4. Computer Technology Assistant Corps (CTAC)
CTAC provides free computers to low-income individuals, libraries, and nonprofits. They accept donated computers, wipe the data, and distribute them to deserving causes.
5. The On It Foundation Free Computer
The On It Foundation is a nonprofit organization that provides free computers and digital access. They offer free computers to eligible students and families. Check their website to know more about their offers and eligibility.
You can also get a free computer if you have Medicaid, check out this post on Free Laptop with Medicaid to learn more.
How to Apply for Free Used Computers
Here are steps to apply for free used computers:
Research Grant Programs: Start by researching grant programs that offer free devices, such as computers. Look for programs that align with your eligibility requirements and needs. Take note of the application deadlines and procedures for each program.
Prepare Documents: Gather the necessary documents required by the grant programs. This typically includes proof of income, identity, and any additional documentation specified by the program. Be sure to have these documents readily available for the application process.
Check Eligibility: Review the eligibility requirements of each grant program carefully. Ensure that you meet the specific criteria outlined by the program, such as income thresholds or enrollment in government assistance programs. Eligibility documentation may need to be submitted for approval.
Submit the Application: Follow the application procedures provided by the grant program. This could involve submitting your application online, via email, or by fax, depending on the program's instructions. Pay attention to any additional steps or requirements mentioned in the application process.
Await Approval: After submitting your application, the grant program will review your documentation. This is to determine if you are eligible for a free-used computer. Approval is subject to the program's evaluation and the availability of resources. Additional documents might be requested to verify income or enrollment in government assistance programs.
Follow Program Guidelines: If your application is approved, carefully follow the grant program's guidelines. This may include attending orientations, signing agreements, or fulfilling other program-specific requirements.
Also, check out my guide on the Free Government Laptops Application Form to learn how to apply and secure your hands on free government laptops.
How to Find Free Used Computers Near Me
Here are ways to find free used computers near you:
Check Online Resources: Search for organizations and initiatives that offer free second hand computers. Websites like The OnIt Foundation, Computers for Kids, Computers with Causes, and Comp-U-Dopt provide free computers to under-resourced individuals and communities. Visit their websites and follow the instructions provided to request a free computer.
Contact Nonprofit Organizations: Reach out to local nonprofit organizations in your area, such as Comp-U-Dopt and the Computer Technology Assistant Corps (CTAC). Contact them via email or phone to learn about their offers and eligibility requirements.
Visit Your Local Library: Check with your local library to see if they offer programs or resources for obtaining free second hand computers. Some libraries provide access to public computers and may have information used computers.
Participate in Online Colleges or Schools: Some online colleges have programs in place to provide free or discounted computers to their students. Contact the educational institution's administration or IT department for resources.
Explore Technology Refurbishing and Reuse Programs: Alliance for Technology Refurbishing and Reuse is an organization that focuses on refurbishing technology and providing it to those in need. Research if similar programs exist in your area, as they may offer free or low-cost used computers.
Eligibility Criteria for Receiving Used Computers for Free
Here are the eligibility criteria for receiving free used computers:
Financial Need: You must demonstrate genuine financial need to qualify for a free used computer.
Income Verification: You may be required to provide proof of income to the organization to assess your financial level.
Educational or Non-Profit Status: Educational institutions and registered non-profit organizations often prioritize noo cost used computers.
Application Process: You must complete an application form stating the purpose for which you need the computer.
Responsible Usage: Using the computer responsibly and for legitimate purposes is important. Misusing the computer, selling it without authorization, or engaging in activities that violate the donation terms can result in disqualification.
Documents Required
The documents required include the following:
Proof of Identification, including a driver's license or other valid ID.
Proof of Address, including a utility bill or bank statement.
Proof of Income
Financial assistance documentation, if any.
Educational or non-profit organization documentation, if any.
Types of Used Computers Offered for Free
Here are the types of used computers offered for free with their specifications:
1. Dell OptiPlex 7010
CPU: Intel Core i5-3470 (3rd generation)
RAM: 8GB DDR3
Storage: 500GB HDD
Graphics: Integrated Intel HD Graphics
Operating System: Windows 7
2. HP EliteDesk 800 G1
CPU: Intel Core i7-4770 (4th generation)
RAM: 16GB DDR3
Storage: 250GB HDD
Graphics: Integrated Intel Graphics
Operating System: Windows 7
3. HP Pavilion DV7
Model: HP Pavilion DV7
CPU: Intel Core i5-2410M (2nd generation)
RAM: 8GB DDR3
Storage: 500GB HDD
Graphics: AMD Radeon HD 6770M
Display: 17.3-inch HD display
Operating System: Windows 7 Home Premium
4. Dell Studio 1555
Model: Dell Studio 1555
CPU: Intel Core 2 Duo T6600
RAM: 4GB DDR2
Storage: 320GB HDD
Graphics: ATI Mobility Radeon HD 4570
Display: 15.6-inch HD display
Operating System: Windows Vista Home Premium5. Dell Latitude CPx
5. Dell Latitude CPx
Model: Dell Latitude CPx
CPU: Intel Pentium III
RAM: 256MB SDRAM
Storage: 20GB HDD
Graphics: ATI Rage Mobility
Display: 14.1-inch XGA display
Operating System: Windows XP Professional
Benefits of Free Used Computers
Here are some of the benefits of free used computers:
Cost Savings: Getting a free used computer can save you money that would be spent on purchasing a brand-new system.
Access to Technology: Used computers provide access to technology for individuals or organizations with limited resources. This allows more people to benefit from educational opportunities, job applications, and communication tools.
Learning and Skill Development: A free-used computer allows you to explore and learn new technologies without substantial financial commitment.
Environmental Impact: Reusing a used computer contributes to reducing electronic waste. By extending a computer's lifespan, you actively minimize the environmental impact of electronic disposal.
Versatility: These can be backup systems, media centers, testing environments, or educational tools.
Can I Get a Free Computer?
You can obtain a free computer through various channels, such as nonprofit organizations and community programs.
Can I Get Free Technical Support or Assistance With a Free Used Computer?
Some organizations and programs offer free technical support or assistance for individuals who acquire used computers for free.
Can I Donate My Old Computer to a Program That Provides Free Used Computers?
Many programs accept donations of old computers to refurbish and provide them to individuals or organizations in need.
Is PCS for People Real?
PCS for People is a real organization. They are a nonprofit that provides affordable computers, internet access, and training to people.
Conclusion
Free used computers offer compelling advantages for individuals and organizations. They provide significant cost savings, grant access to technology for those with limited resources, and support learning and skill development.
Reusing computers also contribute to environmental sustainability by reducing electronic waste. If you have an old computer, you can donate it to programs that provide these no cost used computers, supporting their mission of bridging the digital divide.