Boost Free 5g Phone Offer: How to Get the Mobile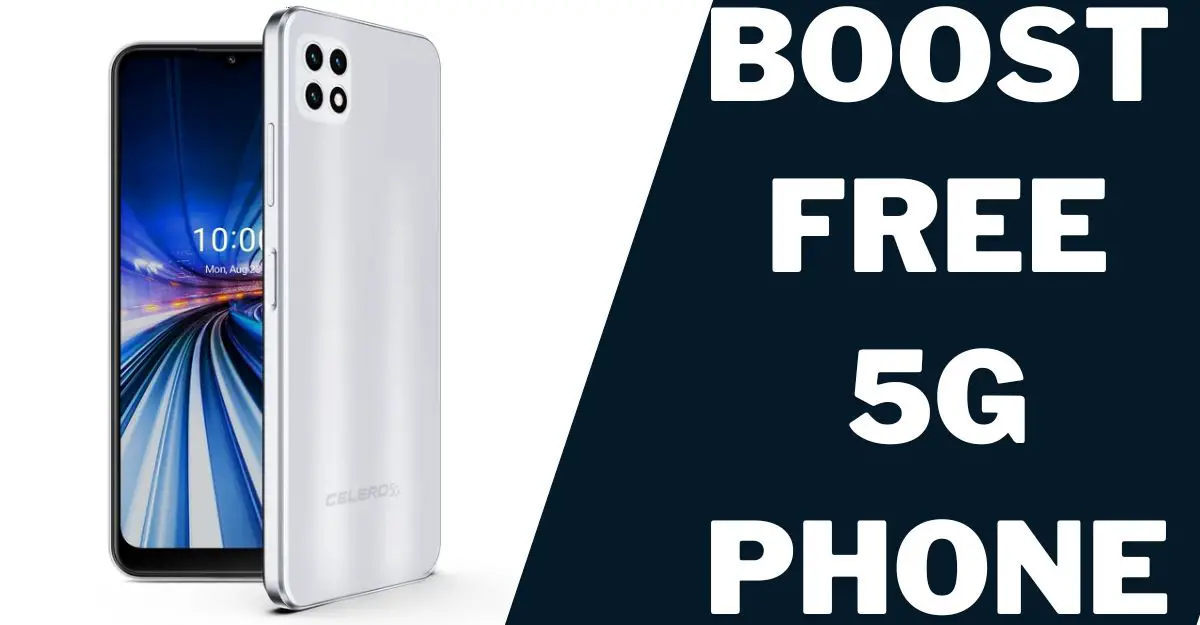 Getting a new phone that taps into the powerful 5G network, and at zero cost!
with Boost Mobile's free 5G phone offer, this dream turned into my reality.
In this post, I'll share my personal experience with the Boost Free 5g Phone deal and explain how you can get one for yourself.
What Is the Boost Free 5G Phone Offer?
The Boost Free 5G Phone Offer is a promotion provided by Boost Mobile, a wireless carrier in the United States. The offer allows new Boost Mobile customers to receive a free smartphone when they switch to Boost Mobile.
Boost Mobile offers an incredible opportunity with its EBB program, providing eligible individuals with a free phone to stay connected. Check my post on Boost Mobile EBB Free Phone for a step by step guide on how to apply and get one.
Available Boost Free 5G phone models
These are the available free 5G phone models:
Galaxy S23: The Galaxy S23 offers a compact 6.1-inch AMOLED 120Hz display, a large battery, and the Snapdragon 8 Gen 2 processor.
Galaxy A54: The Galaxy A54 is part of Samsung's affordable A series and features a vibrant 120Hz display, software support, and flagship-quality camera technology.
Galaxy Z Flip 4: The Galaxy Z Flip 4 is a foldable phone known for its durable construction and outstanding performance.
Moto G Pure: The Moto G Pure is a budget-friendly phone with a 4,000mAh battery.
Celero 5G+ and Celero 5G: Boost Mobile offers exclusive 5G smartphones called Celero 5G+ and Celero 5G. These devices provide premium experiences at affordable prices and feature a 7-inch display in the Celero 5G+ model.
If you're intrigued by my experience and are considering making the switch yourself, don't miss my in-depth review in the article Free 5G Phone When You Switch.
Boost Free 5G Phone Model Comparison Table
Here is a table comparing the Boost Free 5G Phone Models:
Model
Galaxy S23
Galaxy A54
Galaxy Z Flip 4
Moto G Pure
Celero 5G+
Network
GSM / CDMA / HSPA / EVDO / LTE / 5G
GSM / HSPA / LTE / 5G
GSM / CDMA / HSPA / EVDO / LTE / 5G
GSM / HSPA / LTE
GSM, UMTS, LTE, 5G
Dimensions
146.3 x 70.9 x 7.6 mm
158.2 x 76.7 x 8.2 mm
Unfolded: 165.2 x 71.9 x 6.9 mm
Folded: 84.9 x 71.9 x 15.9-17.1 mm
167.4 x 75.6 x 8.8 mm
175.72 x 78.80 x 8.99 mm
Weight
168 g
202 g
187 g
188 g
225 g
SIM
Nano-SIM and eSIM or Dual SIM
Single SIM or Hybrid Dual SIM
Nano-SIM and eSIM
Single SIM
Single SIM
IP Rating
IP68 (dust/water resistant)
IP67 (dust/water resistant)
IPX8 (water resistant)
–
–
Display
Dynamic AMOLED 2X, 120Hz
Super AMOLED, 120Hz
Foldable Dynamic AMOLED 2X, 120Hz
IPS LCD
Color / IPS TFT
Size
6.1 inches
6.4 inches
6.7 inches
6.5 inches
7.00 inches
Resolution
1080 x 2340 pixels
1080 x 2340 pixels
1080 x 2640 pixels
720 x 1600 pixels
1080 x 2400 pixels
OS
Android 13, One UI 5.1
Android 13, One UI 5.1
Android 12, upgradable to Android 13, One UI 5.1
Android 11
Android 12
Eligibility Criteria to Get Boost Free 5G Phone
These are the Eligibility Criteria to Get Boost Free 5G Phone:
Existing Boost Mobile customer: You must have an active account with Boost Mobile.
Upgrade eligibility: Your account should be eligible for an upgrade per Boost Mobile's policies and guidelines.
5G coverage availability: You must reside in an area where Boost Mobile offers 5G coverage. Ensure that 5G service is available in your location by checking the coverage map provided by Boost Mobile or contacting their customer service.
Qualifying plan: You need to be on an eligible plan to qualify for the Boost Free 5G Phone program. Boost Mobile will specify the qualifying plans, so make sure you meet the requirements.
Time since the last upgrade: Boost Mobile allows you to upgrade your phone every 12 months. Ensure you comply with this requirement to qualify for the free 5G phone offer.
Household income: Your total household income must equal or less than 135% of the federal poverty line. This requirement ensures that individuals with limited financial resources can use the free phone offer.
Unemployment: You can apply for the free 5G phone if you are currently unemployed.
Alternative Ways: If your income exceeds 200% of the federal poverty guideline, alternative ways exist to qualify for the Boost Free 5G Phone. These alternative methods include participating in assistance programs such as:

Welfare or Temporary Assistance for Needy Families (TANF)
Supplemental Security Income (SSI)
Supplemental Nutrition Assistance Program (SNAP)
Special Supplemental Nutrition Program for Women, Infants, and Children (WIC)
Federal Public Housing Assistance
Medicaid
Low Income Home Energy Assistance Program
Tribal Head Start for Tribal Lands
Bureau of Indian Affairs General Assistance for Tribal Lands
Documents Required
These are the documents required for a Boost free 5G phone:
Valid ID
Medicaid participation dated letter
SSI cover letter
Federal Pell Grant letter
Unemployment statement of benefits
Pension statement of benefits
Social Security Statement of Benefits
Federal/Tribal or State tax return copy
Does Boost Give You a Free Phone?
Boost Mobile offers free phones to eligible customers. But the availability of specific offers may vary over time.
How Do I Get 5G on Boost?
These are the steps to get 5G on Boost:
Check Device Compatibility: Ensure your smartphone is 5G-capable and compatible with Boost Mobile's 5G network. Refer to your device's specifications or contact Boost Mobile customer support for assistance.
Purchase a Boost Mobile SIM Card: If you don't already have a Boost Mobile SIM card, purchase one from an authorized retailer or through the Boost Mobile website.
Install the SIM Card: Insert the Boost Mobile SIM card into your 5G-capable smartphone. Follow the manufacturer's instructions to locate the SIM card slot and insert the SIM card properly.
Power On Your Device: Turn on your smartphone and wait for it to boot up. Ensure that the device recognizes the SIM card.
Activate Your Boost Mobile Service: Visit the Boost Mobile activation page on their official website [4]. Follow the prompts to activate your new Boost Mobile device and SIM card. You may need to provide personal and device information during activation.
Choose a 5G-Compatible Plan: Once your device is activated, choose a Boost Mobile plan with 5G access. Review the available plans on the Boost Mobile website or contact customer support for assistance in selecting the appropriate plan.
Enjoy 5G Connectivity: With a compatible device, an activated SIM card, and a 5G plan, you can now enjoy the benefits of Boost Mobile's 5G network. Ensure you are in an area with 5G coverage to experience the faster speeds and enhanced capabilities of 5G technology.
Who Owns Boost Mobile?
Boost Mobile is owned by Dish Wireless. Due to the merger between T-Mobile and Sprint, Dish acquired Boost Mobile on July 1, 2020.
Does Boost Mobile Work Overseas?
Boost Mobile offers international roaming services for its customers. This allows existing Boost Mobile customers to add international roaming packs to their plans.
Suppose you're looking for cost effective mobile solutions. You'll be pleased to know that some service providers offer a range of budget wireless options. Check my post on Budget Wireless Free Phones for phone options that can help you stay connected without breaking the bank.
Frequently Asked Questions
These are the Frequently Asked Questions about Boost Free 5g Phone:
What Are the Coverage and Network Options for 5g With Boost Mobile?
Boost Mobile primarily used AT&T's 4G LTE and 5G networks for coverage. This means that Boost Mobile customers could access 5G services in areas where AT&T had deployed its 5G network.
How Long Does It Take to Receive the Free 5G Phone After Signing Up?
Typically, the order process takes 3-5 business days to prepare for shipping. You will receive an email notification once your order has been shipped.
Conclusion
The Boost Free 5G Phone presents a compelling solution for individuals seeking enhanced connectivity without breaking the bank. Its advanced 5G capabilities allow users to experience lightning-fast speeds, seamless streaming, and improved overall performance. This affordable option allows for wider access to the benefits of 5G technology.
By removing financial barriers, Boost Mobile has opened the doors to a new era of connectivity, empowering individuals to embrace the potential of 5G without compromising their budget. Don't miss out on this opportunity to elevate your mobile experience while keeping costs in check.