Free Wifi with Food Stamps: How to Get & Top 5 Orgs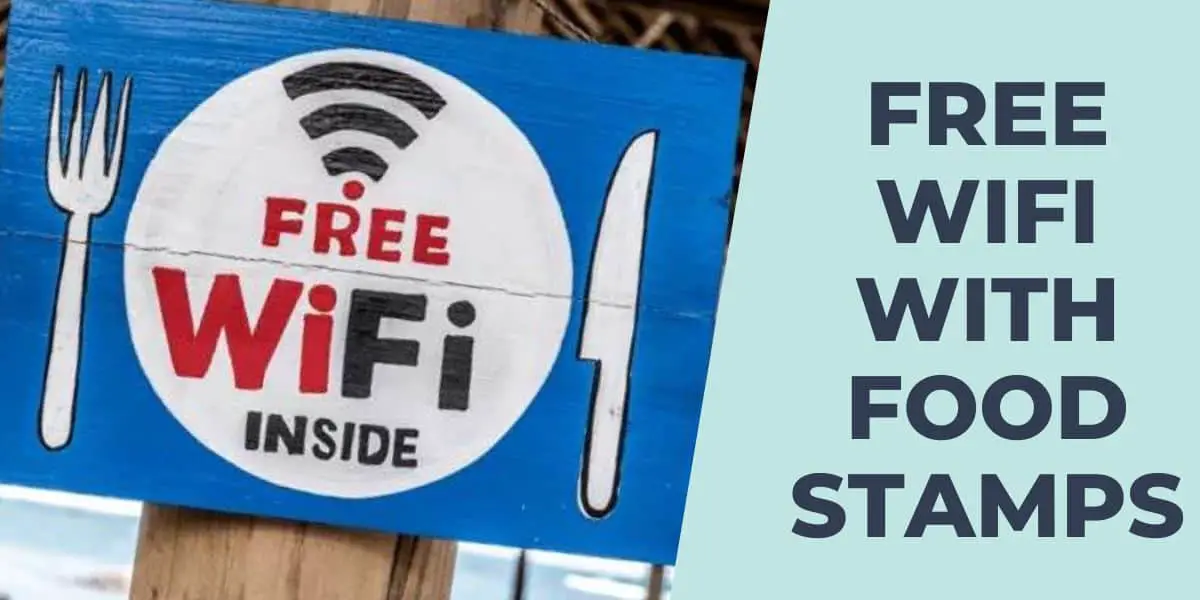 Have you ever found yourself in the middle of an online job search or perhaps helping your kids with their homework, when suddenly—bam!—your internet connection cuts off?
Ouch! And just when you're waiting for those food stamps to refill your fridge too.
So in this article, I will discuss all you need to know about the Free WiFi with Food Stamps program and the top 5 orgs that offer it.
Can You Get Free Wifi with Food Stamps
Yes, if you qualify for SNAP, you can access free Wi-Fi through programs like Lifeline and the Emergency Broadband Benefit Program​​.
Curious about other benefits? Don't miss our related article on getting a Free Laptop with Food Stamps.
What is the Free Wifi with Food Stamps Program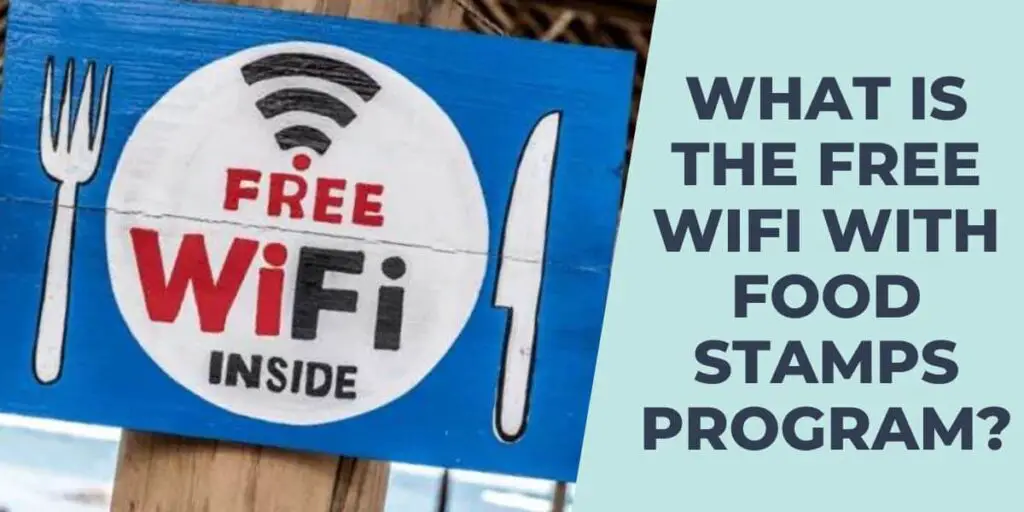 Free WiFi with Food Stamps is a program that aims to close the digital divide and give internet access to low income individuals and families who get food stamps. It gives people who qualify for both programs free access to high speed internet.
This initiative uses existing infrastructure and collaborations to ensure that low-income individuals have equal access to the advantages of digital inclusion.
If you're curious about the program that offers a free iPad with food stamps, you can find more information in our article on Free iPad with Food Stamps.
Top 5 Organizations that Offer Free Wifi with Food Stamps
These are the top 5 organizations that offer Free Wifi With Food Stamps:
1. EveryoneOn
EveryoneOn is a non-profit that collaborates with ISPs to make internet access more accessible to low income people and families, such as those who rely on food stamps. Its mission is to help people and communities become more self-reliant in the digital age by increasing their access to high speed internet, digital literacy training, and low-cost gadgets.
2. ConnectHomeUSA
Food stamp beneficiaries and those living in HUD assisted homes can take advantage of ConnectHomeUSA, an effort spearheaded by the U.S. Department of Housing and Urban Development (HUD). Its goal is to provide people of all backgrounds with the necessary resources to succeed in the information era.
3. Human-I-T
Human-I-T is a non-profit organization that improves digital access for low income people by giving them refurbished computers, internet connections, and educational opportunities. They work with other groups to offer low-cost or free internet connections to people on food stamps.
4. PCs for People
PCs for People is a charity that provides low cost computers, internet connectivity, and digital literacy training to people who qualify, including those who receive government assistance like food stamps. With their efforts, the digital gap is narrowed, and more people are given access to the internet and the world of information it opens up for them.
5. Everyone Connected
Everyone Connected partners with internet service providers to provide food stamp beneficiaries with cheaper internet plans and devices. They want to give everyone an inexpensive, consistent internet connection to stay connected, learn, get a job, and participate in the digital economy.
For more on how free internet is revolutionizing our lives, check out this other piece I've written on how Free Hotspot for Students is making a difference in our schools.
How to Get Free WiFi with Food Stamps
Follow these steps to get Free Wifi With Food Stamps:
Check eligibility: Verify if you are eligible to receive food stamps by visiting the official website of your country's or state's social services department. Each jurisdiction may have specific criteria, income limits, and application processes.
Locate participating organizations: Research and identify organizations that offer free WiFi services to food stamp recipients. The organizations mentioned earlier in this conversation, such as EveryoneOn and ConnectHomeUSA, are good starting points. Visit their websites or contact their helpline to understand your area's application process and availability.
Collect all necessary documents: Prepare documents and information to support your application. This includes identification documents, proof of address, proof of income or benefits (such as food stamp documentation), and any other documents requested by the specific program or organization.
Register for WiFi-free programs: Once you've chosen the right organization, adhere to their application guidelines. Submit the necessary paperwork, complete an online application form, and prove your eligibility. Ensure you provide the appropriate information as requested to prevent any problems with your application.
Complete any additional conditions: Using the free WiFi service may need extra actions from some organizations, such as participating in digital literacy training or seminars, signing agreements, or receiving equipment (such as a subsidized or free smartphone).
Seek verification: After submitting your application, patiently await confirmation from the organization. This may come through an email, phone call, or postal mail. Be prepared to provide any additional information or clarification if requested during the review process.
Connect a WiFi network: Once approved, the organization will provide instructions on how to set up your free WiFi service. This may involve receiving a modem or router, configuring settings, or connecting to a designated WiFi network. Follow the provided instructions carefully to ensure a smooth setup process.
To learn more about the eligibility requirements and process for purchasing an iPhone 7 with food stamps, click here for a detailed guide.
Eligibility Requirements for Free Wifi with Food Stamps
These are the general eligibility considerations when applying for free Wifi with food stamps:
Active participation in the Supplemental Nutrition Assistance Program (SNAP), more commonly known as food stamps.
Have an Income limit, as some organizations may have income limits or guidelines to determine eligibility. These limits are usually based on the federal poverty guidelines or other relevant criteria.
Proof of residency inside the free WiFi provider's coverage region. This guarantees the service can be delivered efficiently to those who qualify within the specified areas.
Completed application form and provision of supporting materials to prove your eligibility. Documents of identity, evidence of residence, proof of income or benefits (such as SNAP paperwork), and any other information required by the program or organization.
Enrollment in eligible programs
Types of Internet Plans Available Through Food Stamps
.Here are some common types of internet plans available through food stamps:
Free or subsidized Internet service
Discounted Internet plans
Mobile data plans
Broadband service options
Benefits of Getting Free WiFi with EBT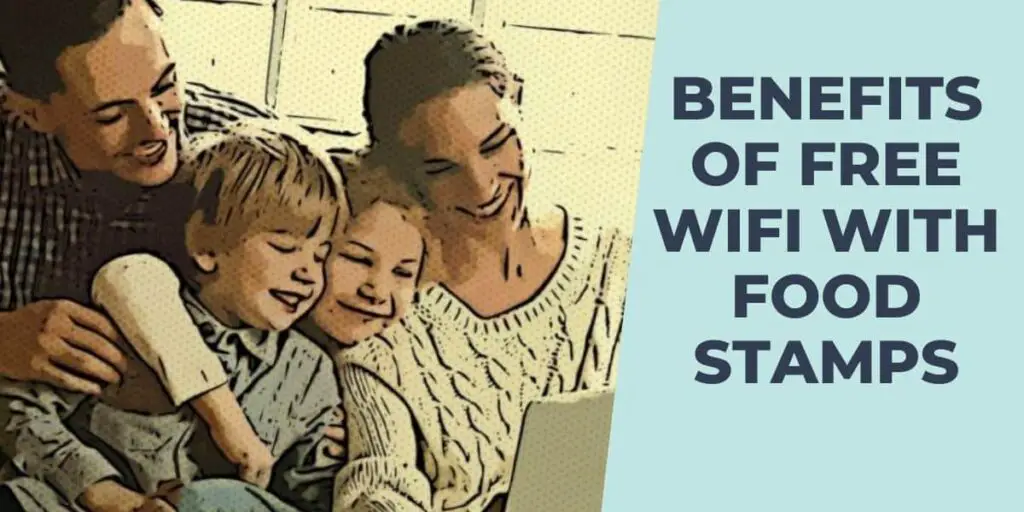 These are the benefits of Free WiFi with EBT:
Access to Online Resources: Free WiFi allows food stamp recipients to access online resources such as educational websites, job search portals, online courses, and government assistance programs. This access can help individuals enhance their skills, find employment opportunities, and explore educational resources that may improve their overall well-being.
Online Grocery Shopping: The availability of free WiFi makes online grocery shopping convenient for many who rely on food stamps.
Digital Communication: WiFi access allows individuals who receive food stamps to stay connected with their friends, family, and support networks through email, social media platforms, messaging apps, and video calls.
Access to Government Services: The government provides free WiFi so those who get food stamps can register for and renew their benefits, research healthcare choices, file taxes, and more.
Job Search and Employment Opportunities: Those who rely on food stamps can use the public Internet to look for work, apply for positions, and network with prospective employers. It also helps people get jobs and advance in their careers by giving them access to online training materials and career development tools.
Educational Support: Gaining access to internet resources like learning platforms, research materials, instructional videos, and tutorials is a huge boon to any educational pursuit, and free WiFi may help make that a reality.
Access to local information: Food stamp beneficiaries with access to WiFi can learn more about local events, programs, and services that may interest them. This access is essential for timely notifications about local events, government policy, health information, and emergencies.
To discover how to get a free phone with food stamps in Texas, read my informative article on Free Phone Programs for Food Stamp Recipients in Texas.
Frequently Asked Questions
These are the frequently asked questions about Free Wifi with Food Stamps:
How does Free WiFi with SNAP work?
Free Wifi with Food Stamps works through partnerships between government agencies, community organizations, or internet service providers. These collaborations aim to let those who rely on food stamps connect to the internet at no or little cost through WiFi services.
Are there any challenges in implementing WiFi at no cost with Food Stamps?
There are challenges in implementing WiFi at no cost with Food Stamps, such as the need for infrastructure investment and ensuring equitable access for all food stamp recipients.
Conclusion
Free WiFi with Food Stamps is an innovative initiative that combines two vital social services: access to the Internet and food assistance. This program aims to help low income people and families participate fully in today's interconnected society and take advantage of new possibilities that were previously out of reach by closing the digital gap. Thereby providing the potential to create a more inclusive and equitable society where everyone has the chance to thrive. So, let's continue to explore innovative solutions that leverage technology for the betterment of our communities.